Decorating your home can be an overwhelming process. Whether you're moving into a new home or just need a refresher course, it can be hard to know where to start. Often, the first step is deciding what rooms need some attention. By choosing those spaces first, it'll be easier to work out what decor pieces need to go where later on.
Color
Color is a powerful transformative design tool that can have a huge impact on your home. The right colors evoke feelings and create the atmosphere or flow you want in your space.
For example, if you want your house to feel cozy and warm, try using reds, oranges, or yellows in your decor. On the other hand, if you want it to feel invigorating and energizing, use blues, greens, or purples in your design.
A good rule of thumb when choosing your colors is to choose a color scheme that coordinates vertically, meaning the darker shades of the palette decorate the floor, then the lighter ones on walls. This will ensure that your colors don't look jarringly out of place when you move from room to room.
Another important tip is to take stock of your existing color scheme before you begin decorating. This will help you determine which color combinations work best for your home and how you can change up the colors you're stuck with without affecting your overall design plan.
Whether you're looking to remodel your entire house or just give a space a fresh makeover, knowing your color scheme can make the process much easier and less stressful. It also allows you to avoid making costly mistakes like choosing a color that doesn't complement your other colors or using a hue in the wrong direction.
If you're a color-shy person, like me, it can be intimidating to experiment with new colors or patterns in your home. But if you're willing to take baby steps, there are many ways to add color to your home on a budget. With a little patience and creativity, you'll soon be enjoying the transformation your home has been waiting for!
A decorative terracotta vase is also a smart choice for your living room or bed room. 
Texture
Adding texture to your home decor is a great way to add dimension and interest to a room. It can also help to make a room feel more cosy and inviting.
When decorating, it's important to consider the texture of all the fabrics in your space. For example, if you have a leather couch, it's best to choose a throw rug in different shades of brown or a velvet pillow that contrasts nicely with it.
You can also try adding a variety of textures to your walls, like grasscloth wallpaper or a woven wall covering. This will help to create a more textured environment, explains Mroz.
Texture can also be added to your floors, especially if you have wooden or stone flooring. For example, a jute or sisal rug will add lots of texture to your home, especially if you have a warmer climate. Another great way to add texture to your interiors is by mixing materials. 
If you're looking for a simple and easy way to add some texture to your home, consider decorating with baskets. They are versatile and can be used in a number of ways, including as storage for toys, flowers or decor. A great tablecloth is another smart choice for bringing your living room a hint of elegance. 
The best part is that they're incredibly affordable and can be used in a wide variety of styles. You can even use them to display artwork or a collection of books.
Whether you're a beginner in the world of home decorating or a seasoned decorator, adding texture can be a great way to bring life to any room. In fact, it's one of the most important things you can do to get a cohesive design scheme that looks finished and polished.
Patterns
Decorating with patterns is a great way to add interest and character to a room. You can use pattern on furniture, fabrics, wallpaper and even flooring. However, it's important to consider how a new pattern will impact on the existing design elements in the space.
For example, if you have wooden floors and exposed brickwork in your home, these must be considered when choosing new patterns. This will ensure your new designs aren't too loud or out of place.
Another key factor to keep in mind is the size of a pattern. Large-scale patterns can overwhelm a room, so make sure you incorporate varying scales of prints to create balance.
A good rule of thumb is to select a large pattern first and then build out smaller patterns throughout the space. For instance, a chevron or herringbone pattern might look great on a rug or throw pillow, but could be overpowering in the wall.
Then, add a small pattern that uses one of the colors in your larger pattern. You can repeat the same color in a smaller pattern or add another shade of the same color to give the pattern more visual texture.
Mixing patterns isn't always easy but it can be fun! The best way to determine if the patterns you're thinking of mixing work together is to try them out on fabric swatches. This will help you to see how the different patterns will interact in the space and will allow you to adjust if any pairings feel too overwhelming.
Focal Points
Focal points can help you define the overall style and flow of a room. Without one, a space can quickly feel disjointed and awkward.
Some rooms have natural focal points, while others need to be created in order for them to work well. However, no matter what your choice is, there are many ways to incorporate focal points into your decor.
The first and most basic way to create a focal point is with color. Paint one wall or a feature in a different color than the rest of the room and anything you put on that wall will immediately be noticed.
Another great focal point is art. Using a large canvas or a gallery wall can instantly draw the attention of visitors to your home. You can even use an art piece that is important to you and has a personal meaning.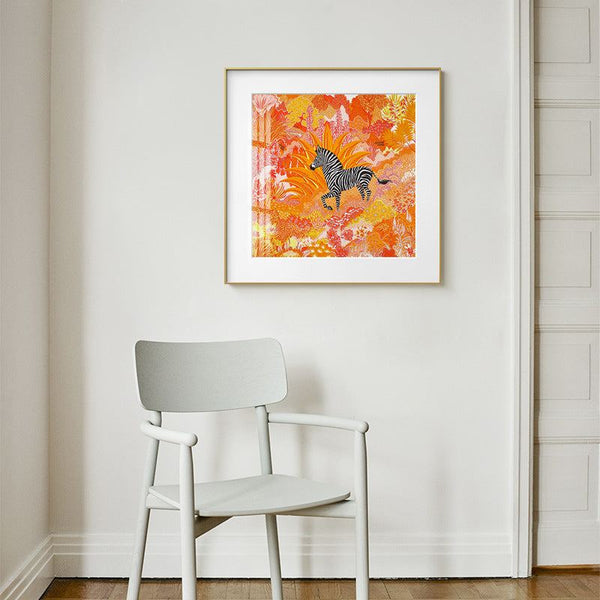 Fireplaces and windows are also easy focal points because eyes naturally travel to them. You can arrange seating around a fireplace or add a bold piece of artwork to the top of the mantle.
Contrasting colors and textures can also be used to emphasize a focal point. Painting a room with a contrasting color can make it seem more open and airy, and a patterned or textured ceiling can draw the eye to the center of the space.
While there are many ways to create focal points, it's best to start with what is already in the room and then think about how you can strategically draw the eyes to it. For example, if you have a large window or a gorgeous view outside, try placing a framed print or a mirror over it. This can instantly draw the eyes and make the room look bigger.
Lighting
Lighting can help you achieve a variety of goals in your home decor, including mood and atmosphere. The color and style of lighting you choose can also affect how you feel when you're in the room, as well as how you perform different tasks.
You can create a cozy, inviting space with a lot of reading lamps and wall sconces, or an energetic, lively one by pairing bright ambient lighting with focused task lighting. You can do this in any room, but it's especially important in the bedroom and home office.
Decorative lighting is often used to highlight architectural elements or specific objects, such as sculpture and artwork. This is usually done using recessed or track lighting, downlights, or wall-mounted fixtures.
To achieve a cohesive look, it's important to keep your lighting in line with the rest of the decor. You can mix and match finishes, but it's best to stick with a consistent color scheme.
When choosing your lighting, consider your room's size and shape and the ambiance you want to create. You can also take a layered approach to lighting by using different light sources across different levels, such as uplighting a ceiling to make it seem larger or clusters of lights in the floor and on walls to create a sense of depth.
Lighting can affect our mood, appetite, and sleep, and it's important to think about how your home will be used in order to determine what types of lighting are best for each space. A qualified lighting professional can help you develop an effective plan for your home, as well as provide you with the expertise necessary to implement it successfully.
Throws and Blankets
Throws and blankets are not just functional items to keep us warm; they are also essential pieces for adding style, coziness, and texture to our living spaces. These versatile accessories are incredibly easy to incorporate into any home decor, whether your style is modern, bohemian, or traditional. In this article, we will explore the beauty and potential of throws and blankets as decorative elements and provide creative ideas to elevate your home's aesthetic.
Texture and Layering:
Throws and blankets introduce an inviting textural element to your decor. Opt for chunky knit blankets or faux fur throws for winter coziness or lighter, woven options for a more airy feel in the summer. Incorporate layering techniques by draping a blanket over the back of a sofa, accent chair, or the foot of the bed. This adds depth and visual interest to your space.

Color Coordination:
Throws and blankets offer an excellent opportunity to introduce vibrant pops of color or tie together a color scheme. If you have neutral-toned furniture, a bold, colorful throw can create a focal point and inject personality into the room. Alternatively, choose a throw that complements your existing color palette to create a harmonious and cohesive look.

Experiment with patterns to create visual drama or intricate detailing. Animal prints, geometric designs, floral motifs, or traditional patterns bring character to any plain space. Be mindful of the size and scale of the patterns to ensure they complement the overall aesthetic of the room without overpowering it.

Statement-Making Drapes:
Utilize throws and blankets for drapery purposes to transform your windows or doorways. Hang a throw as a curtain or use a blanket as a panel for a unique and eye-catching design element. This unconventional approach adds a touch of whimsy and creativity to your decor.

Outdoor Comfort:
Extend your decorative flair to your outdoor living spaces with weather-resistant throws and blankets. They not only provide warmth during chilly evenings but also instantly elevate the overall ambiance. Opt for durable materials and prints that withstand outdoor elements.
Throws and blankets are indispensable decorative accessories that offer both warmth and style. By carefully selecting textures, colors, patterns, and utilizing them in creative ways, you can effortlessly transform your home into a cozy and visually appealing sanctuary. So go ahead, experiment with throws and blankets, and let your home reflect your personal style and taste.
For more products' discount information, please kindly click here.